Friday, June 22nd, 2007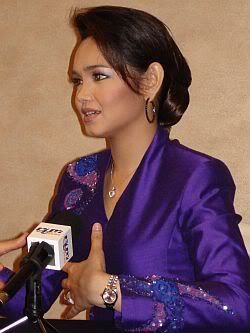 Puan Siti Nurhaliza Bt Tarudin, meh sini haku nak tanya. where on earth is your new album?! im waiting like a thousand year nak tunggu album baru keluar. are you serious on making one or not? Bila you nak masuk studio utk recording? i tak nak u record last minute, nnt kelam kabut. u better masuk studio skarang jua!! u dah get ready utk print inlay belum? dah sign contract? cepat la record n launch!! oh and please put at least 13 songs ye. i want the album to be entitled SENI NUSANTARA. i give u masa smpi hujung tahun ni. u MUST launch within the time given. note that!
and where is your promise on Istana Cinta DVD? im still waiting. tick tock!